O-Phase 2022: 18.10.-21.10.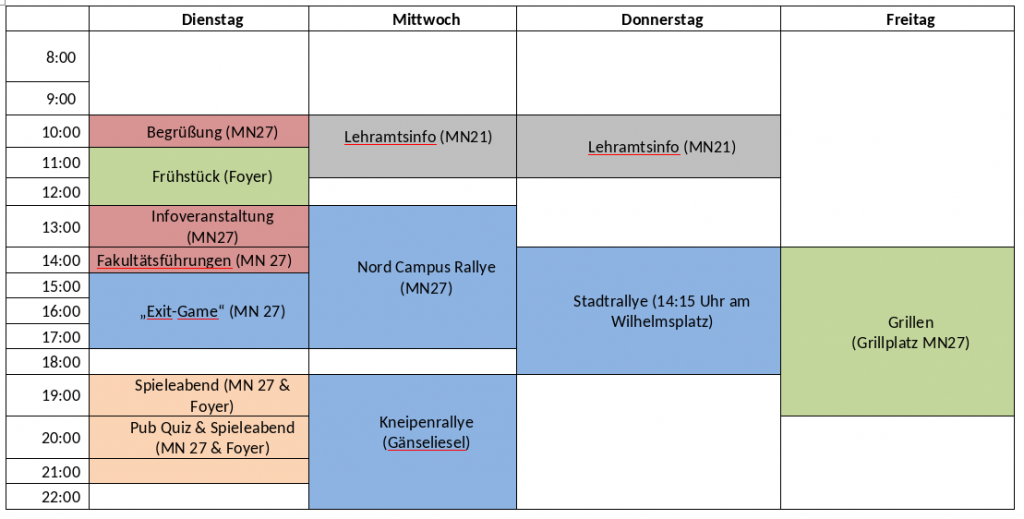 Important Information
The schedule shown above represents the O-Phase schedule at the Faculty of Chemistry. The events will take place in presence unless otherwise specified.
We would like to draw yoIf there are any changes to the O-Phase schedule due to changes in regulations, we will announce them here.
Should you have any questions, please contact fachschaft@chemie.uni-goettingen.de
Best regards
Your student council
Chemistry teacher training course
The student teachers are cordially invited to every event in the O-phase by the mono-Bachelor students. Of course, the same rules apply here.
Extra information sessions are offered for you separately from the Mono-Bachelor information session. These will take place on Tuesday, 18.10. from 9:00 to 12:30 digitally and from 19:00 in presence at the LSV (Waldweg 26). You can find more detailed information here.
Freshmen Info Presentation 2022
Hygiene concept 2020